Have you heard of Fabienne Fredrickson, the million-dollar Client Attraction Breakthroughs Mentor?
She is spreading the message that you really don't have to settle for a mediocre business. You really can make a LOT more than you're making now, while having a life of freedom and ease to spend time with the ones you love.
Attracting a consistent stream of new clients begins with understanding what interests your ideal clients, what their major struggles are, and what will make them buy your products or services. Then, it means taking serious action on it. Here's what you need to do:
1. Make Client Attraction a priority
2. Strategize your unique positioning
3. Craft your client profile
4. Construct your compelling marketing message
5. Package what you know and do
6. Create PULL marketing materials
7. Get out there in a BIG way
8. Create your Marketing PIE
9. Become a master of Closing the sale
10. Implement systems for consistent action and results
These are the steps of The Client Attraction System™ that Fabienne created to help independent service professionals attract all the business they need. Clients who've applied all these steps with have seen outstanding results quickly, often covering their investment with just one new client.
Fabienne Fredrickson's Client Attraction System has helped ME get clear on what I do best for my clients which helped me create my ideal client profile and build a marketing plan around that base.
It's a system that I return to time and time again and that's why I want to share it with you.
Having a marketing plan is great but building action steps that you get serious about marketing is crucial. I urge you to check out this informational page and then her testimonials if you want to learn to market with intention.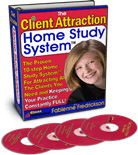 Maybe you've already worked with Fabienne or you feel like you're ready to take your marketing efforts to a higher level. THIS THURSDAY, January 22nd, Fabienne is revealing the EXACT steps she took to create big breakthroughs in client attraction in a FREE teleseminar series introducing her signature event, *Marketing and Mindset Breakthroughs Workshop* in Los Angeles, California.
If you do nothing more than listen in on this teleseminar series, you'll get great tips and information that will get you excited about creating the best marketing plan possible while having the best mindset possible. You can follow the link below to get signed up for the FREE calls.
FREE Preview Teleseminar Series
She only does this once a year and she's known to give a LOT of information, so I I'll be there for sure, and I hope you will as well.
*UPDATE*
Clearly this teleseminar date has passed but if you want to check out her Client Attraction System, you may do so here.